The antics of Toronto politician Rob Ford have inspired yet another book – this time written by a fellow city councillor.
Random House Canada says John Filion's The Only Average Guy: Inside the Uncommon World of Rob Ford will examine "what drives him, why he acts the way he does, what's important to him."
Filion was a journalist before entering municipal politics, and Random House says he developed an unlikely camaraderie with the wildly unpredictable councillor from Etobicoke.
Ford earned international notoriety for admitting he smoked crack cocaine during his term as mayor from 2010 to 2014, in addition to a host of other controversies involving racial slurs and drunken tirades.
Random House says the book reveals "a boy still longing for the approval of his father and struggling with the impossible expectations of a family that imagined itself a political dynasty."
The Only Average Guy is available on Oct. 27.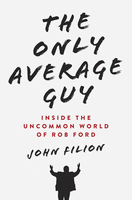 "Like everyone else in the world, it seemed, I watched the unravelling of Mayor Rob Ford with fascinated, gob-smacked disbelief," Anne Collins, vice president and publisher of Knopf Random House Canada, said Monday in a release.
"The reporters could barely keep up with what was happening when it came to the Fords. I, like a lot of people, kept asking, 'How? Why?' John Filion has answered those questions, eloquently, giving us an immensely important portrait of a troubled man, an ambitious family, and a shocking political culture that is still very much with us."
Other books about Ford include Mark Towhey and Johanna Schneller'sMayor Rob Ford: Uncontrollable: How I Tried to Help the World's Most Notorious Mayor (Skyhorse Publishing) and Robyn Doolittle's Crazy Town: The Rob Ford Story (Penguin Canada).
by THE CANADIAN PRESS